Latest Blog Entries
Cost Vs. Value 2019
Every year a cost versus value sheet is released on to the masses so that we know what the National & State averages are to doing things like windows and doors to an upscale Kitchen or Bathroom remodel. There are multiple reasons why we at Cabinets Extraordinaire pay attention to these articles. One is of course to see where we are on the scale with other builders doing similar projects that we also handle. It is a great way to see who is practicing within the averages of pricing throughout the Nation. When you, as a client, are presented these documents, it can be a real eye opener of what things cost in today's market. So, when you are contemplating any type of project it can help you decide on what type of budgeting you can expect and begin the process for you to wrap your mind around where you want to be with your targeted budget.
For example, what does your average guest bathroom cost and what is included for that price.
Your average guest Bathroom is at an average of $18,500
That would include an update to a 5' x 7' room with new updated fixtures that includes a porcelain over steel tub with 4" x 4" ceramic tile surround. New single lever temperature and pressure balance control valve; granite type countertop with drop-in sink. A standard new toilet. Flooring with either a 12" x 12" ceramic tile or vinyl type flooring.
A Custom or Upscale Master Bathroom remodel cost are at an average of $60,500
That would include adding 35 Sq. Ft. to the existing room within the existing property footprint. Relocation of all plumbing fixtures. Includes removing of soaking corner tub and enlarging the shower. New porcelain shower surround floor and wall tile including frameless shower glass enclosure. Free-standing tub with floor mounted tub filler. Granite or Quartz countertops with high-end faucets and sinks. Two mirrored medicine cabinets with a new lighting package. Also, it could include items like heated floor or heated towel bars. Multiple tile designs within the space. The cabinetry would be of a custom variety with options like drawers or an integrated hamper, a salon type drawer pull-out. You get many more options with this type of space and budget.
Here are a couple more items that show averages in the Sarasota area.
Average Kitchen Remodel -$50,000- $63,000

Upscale Kitchen Remodel - $100,000- 126,000

Midrange Master Suite Addition - $120,000

Upscale Master Suite Addition - $ 250,000

Complete 1500 Sq. Ft. Condo Build out -$250,000 - $375,000
These are costs that can fluctuate from project to project depending on the cost of items selected on a per job basis. We wanted to try to be helpful and set an example of preliminary budget numbers that a client can review when preparing to start a renovation.
Also, I wanted to just explain to people why we work on a retainer. One of the things you get when working with us, is the concierge design service we offer. Remember, this is not in addition to the contract but part of the included investment when doing business with us. We are a team of award winning, multi-published Designers who will work tirelessly to nail down the overall design right through to the many fine details that are required when operating at the level at which we strive to provide in our service.
No where else will you find that type of service for FREE!!! Every penny of the retainer is applied to the contract at time of signing.
WE love being transparent with our clientele so that you too know what is happening on daily with you project. Thank you for reading and we hope this helps with your decision when hiring a Licensed Contractor for your DREAM Project.
---
What happens if I am not around during the remodel?
When making the decision on when to start a project some people prefer to be at the Home/Condo where the work is being done. Others opt to have the project completed while they return to their second home up north or abroad. Either is fine with us. At Cabinets Extraordinaire we totally understand someone wanting to be around in case questions arise or things change during the process. Some, remodels are so intense it is impossible to complete the job while upholding livable conditions. We work with each client to help facilitate conditions that support their lifestyles and daily living routine.
Let's look at a project that is going to start while the homeowner is away. These details will all be discussed during the design and contract phase, so we know how to approach the situation. If a client is returning to their home somewhere else, we have a whole approach on how to maintain clear communication as well as ways to keep the client engaged on what is happening on a day to day basis with their project.
What is BUILDERTREND?
Buildertrend is an in-house program we use every day. It is an on-line program where we can communicate with employees, venders and sub-contractors. Buildertrend also gives the ability to bring in the homeowner to our world. What does that mean? When we are building out a project from the start, typically the client is given a USERNAME and PASSWORD to login to the program. This allows you to follow what is happening behind the scenes such as Permitting processes and scheduling and cabinet whereabouts. Another very cool thing that Buildertrend offers an on-line calendar that you have access to see what is happing and what's been completed. If you login and go to the "schedule" you will see items such as permit applied for and permit delivered. Other things such as Cabinet delivery and cabinet install date. We build this calendar for our in-house employees, sub-contractors and client. We believe that by involving the client it helps to minimize phone calls and questions that can be answered simply by logging in and reviewing what info has been posted on-line. The program also is great for photos. We continually up-load pictures and progress reports so you not only know what's going on, you can see the progress.
Living through a remodel and what can I expect?
When the only option is to move forward while living at the residence where the remodel is taking place, we also have protocols we follow as to try and minimize the disruption of daily activities. If we are doing a bathroom remodel obviously you would use one other baths. If it is your master bath that is connected to your master bedroom, you can possibly live in another bedroom while using the guest bath. Kitchens are notoriously built in the center part of the home. This can be tricky especially if there is a family with children at home. You can plan to eat out for possibly a couple of months. There are other things you can do like, move the fridge to another room or garage. Sometimes we have seen clients set up a kitchen workspace in the garage that includes a refrigerator, microwave and small toaster. If you are lucky enough to have an outdoor kitchen, well fire up that grill and plan on grilling some great steaks or burgers for a while.
We hope this helps and gets you excited about working with a company interested in making your project one that involves you the client and helps keeping things transparent and interesting.
Cabinets Extraordinaire is available in the Sarasota 34234, Longboat Key 34228, Siesta Key 34242 and Lakewood Ranch 34202 areas.
---
When you are working with Cabinets Extraordinaire we offer what we believe is the #1 service of its kind when building in the Sarasota, Longboat Key, Siesta Key or Lakewood Ranch areas. Anytime you take on the task of remodeling a Kitchen, bathroom or a complete Condo Build-out there are literally sometimes 100's of choices to be made and documented. We are here to be your personal note-taker as well as someone who will work tirelessly to maintain a record of the decisions made and what decisions still need to be made all while keeping the cost and budgeting on track.
We are extremely proud of the team we have put together here at our firm. The design talent that we acquired through our extensive hiring process to the team that works together to answer even the most mind boggling questions that arise during the "design" phase is a product of combining the areas top talent and making a team that fits just about all types of people and concepts from fun to funky to absolute elegance.
You will be assigned a Designer once you have explained what you are looking to do, and we have decided who would best be paired to maximize the experience and build. The relationship formed during the concept to the completion, can be one of trust, one of understanding that we know what we are doing, and you can rely on us to educate and explain products, specs and finishes. We find that at the end of a project there are true lasting friendships that were formed during this process.
The Designers job is to listen first. We need to pull out what your "vision" is and how we can add value to it, what makes it "yours". We work with some very "cool" cutting edge software programs that produce a 3D layout for you whether it's a Tuscan Lakewood Ranch Kitchen with incredibly hand crafted doors that feature things like Wood Knots to Vintage Distressing or a Longboat Key Condo featuring Sleek Modern Contemporary cabinets that offer all the self-opening/closing doors and drawer features to the High Gloss Custom Finishes. Either way we know what to do and we do it very well. We have large print layouts published in Sarasota's top Design Magazines as features, to the awards we receive year after year for our "out of the box" thinking or that have been given for our Professionalism and timeliness of our projects.
Finally, with the volume and caliber of work we produce we have established some enviable relationships in Sarasota and the surrounding areas. These relationships when looking for that perfect faucet or that sitting area in your custom wine room that needs the perfect chairs and ottoman are key to finalizing your product. Some items like a custom tile from an outside vender need to be shown to get the "WOW" factor we are looking for. That's why having the right Designer and back up staff are so important.
We hope this article/Blog is helpful when making a decision on the appropriate Firm to hire.
---
We spend time picking selections, making design decisions and finalizing the numbers. Now what!
Well this is where the real work starts. After signing a contract with Cabinets Extraordinaire/Cabex Construction, there are a lot of things that need to get completed prior to the start of a project. For example, we will need to complete a "Survey" of the project. This is where we will double check our measurements and layouts to be as accurate as possible to assist in the ordering process of both cabinetry and tile/flooring selections.
Next, we order materials such as cabinetry, tile and fixtures. As we are a full custom cabinetry company some of these items can have delivery dates as far as 12 weeks from time of purchase.
During this period there will be several weeks that you may not hear from us. That does not mean we are not working on your project, we absolutely are. Behind the scene the work never stops. We have worked extremely hard at finding the right people to fill the positions to do the tasks required to deliver you an exceptional finished product. Take for example our Purchasing Manager, Kerri who tirelessly checks, double checks and sometimes triple checks the cabinetry layout, the items to be ordered such as faucets, tile and asks any required questions to the manufacture prior to ordering.
So, don't worry we are working behind the scenes to order and facilitate a product that not only looks amazing, but one that's works and is highly functional.
The permitting process can also be quite time consuming. We will file for the permit after it too is checked for accuracy and completed so that once filed, we receive the permit without problem.
Once we have received all the delivery dates and the permit has been approved for pick up, we can start the process of scheduling out the project. We are aware that up to this point almost all of the information you have received was from your Designer however the scheduling process is done by your assigned Project Manager. He will contact you to set up a "PCC" which is a "pre-construction conference". That is a meeting where things such as "where is the water and electrical shut-offs". Is there furniture, flooring and other important personal items that need to be moved or protected. This is a time where "you" the homeowner can ask any of the questions you might have also. Once we are all on the same page, we will can proceed with the start of the project.
So, remember these few things:
Selections, Design and Contract - done with Designer
Survey - done with Designer and Project Manager
Permits and materials ordered - done by the inhouse support team
Scheduling of the project - with Project Manager
PCC meeting- done with Designer and Project Manager
Project start – The Whole TEAM!
Construction in your home can be nerve racking and disruptive to your daily routine. We will do everything we can to minimize these disruptions and keep you informed of the process along the way. But, it is construction and more than likely there are minor hiccups along the way. Please prepare to maybe eat meals out or use the "other" Bathroom during the build phase of the project. If it is a large-scale project meaning multiple rooms, it might be wise to move out of the house for the period of the remodel. Something you should discuss with your Designer and Project Manager.
Why 50% Down!
When we enter into a contract there are purchases and fee's that need to be paid immediately. Let's take cabinetry and permits. Cabinetry is most often the largest expense when doing a project and those need to be paid for upfront because they are custom built specifically for your project and only your project. Once we place an order, we can't make any changes or cancel at any time. Permitting cost and other state and local fee's associated with construction industry are another item that require upfront payment. Countertops are also a large purchase made by us and in order for the fabricator to hold your selected countertop a 50% deposit must be made immediately to secure the product. SO now you know why the 50% down payment is so important and what it is used for.
We hope with all of this new information you have learned it is both informative and reassuring that we have your project and your needs covered!
We look forward to working together with you on your project. We welcome you to the Cab Extra Family.
---
Wolf is not just a leader in ovens and grills, but also a leader in microwaves. Take for example the microwave drawer by Wolf. There are 3 new products to look at, the 
Wolf 24 Drawer Microwave Transitional, Wolf 30 Drawer Microwave Professional, Wolf 30 Drawer Microwave Transitional.
Microwaves can be an eye sore in a kitchen, but these particular drawers make having a microwave look cool.
The photo says it all, it is sleek, practical, and a great addition to your kitchen remodel.
---
Add a POP of glamour to your kitchen with a mirrored backsplash. Found this shot at another great site to find inspiration for your next remodel or new construction project: http://www.miss-design.com/.
---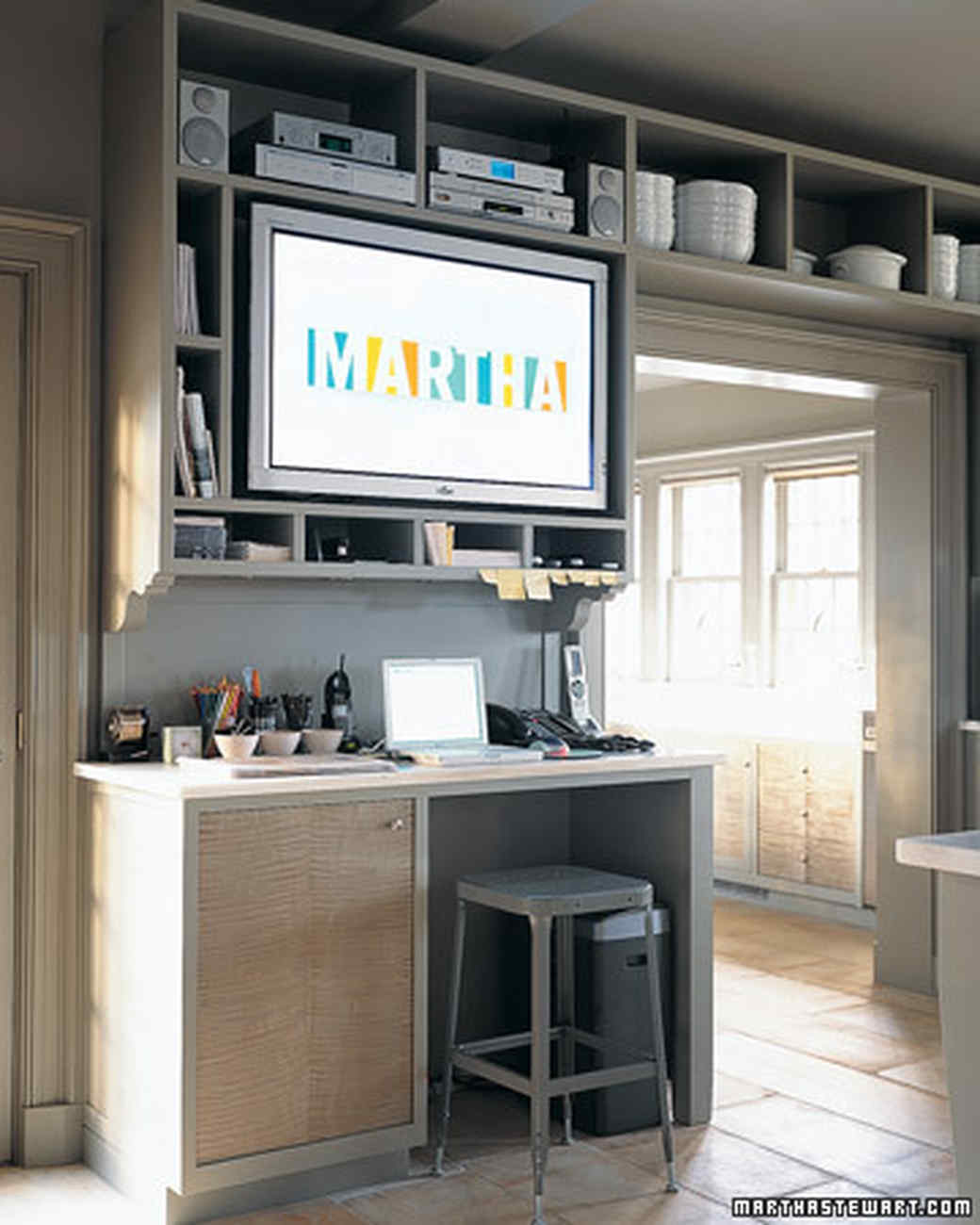 We decided to show a photo of Marthas kitchen since she is speaking to some social media savvy folk at AltSummit in NYC today. She uses her kitchen as a media center as well. Do not underestimate the power of a small piece of office space when designing your kitchen. If it is good for Martha, it is good for you!
---
Pets are part of the family too! A new trend with home owners is incorporating a special place in the kitchen for their furry friends. These little nooks can include custom cabinetry for daybeds, doggy faucets, and feeding stations. Speak to one of our Designers today about creating a unique place in your kitchen for the pets in your life, now available through Elmwood Fine Custom Cabinetry.
---
Bathroom and kitchen Remodeling Improve the Value of Your Home
Unless you are an investor or a millionaire having stakes in many businesses, a home would be the largest investment that you would make in a lifetime. For most families in the United States, buying a home takes years of savings and then years of repaying the mortgage. The last thing any family or homeowner would want is to watch the value of their home getting depreciated.
Any investor or a financial planner will tell you that protecting the value of any investment is not the most rational or wisest strategy. The objective should be to improve or enhance the value of your investment. In this case, you should improve the value of your home and not try and preserve the value at which you bought it. The only appreciation that you would notice would be the natural inflation of prices of the land the home is built on. The home, including the foundation, fixtures and different structures, will witness a depreciating value. That is unless you do something and take charge of the reins.
Here are two simple ways which are also the best ways to improve the value of your home.
Bathroom Remodeling Sarasota Florida
Many homeowners or property owners intentionally opt for bathroom remodeling in Sarasota just before listing the home for sale or before getting the home evaluated for a value appreciation. Bathroom remodeling in Sarasota has become a trend for property sellers but whether or not you wish to list your property for sale, you can still indulge in the exercise. In addition to improving the value of your home, bathroom remodeling in Sarasota will also allow you to opt for latest energy saving plumbing fixtures, unique designs and modular fittings that will help you to have more space in your bath areas and you can at the same time watch the value of your home getting appreciated.
Kitchen Remodeling Sarasota Florida
With kitchen remodeling Sarasota residents can enjoy substantial value appreciation of their homes. When families buy a home or when markets assess the value of a home, kitchens are given a lot of importance because it is one place in the property that would be the host of several activities. Kitchen remodeling in Sarasota would allow you to have cool designs that are innovative and state of the art and will offer you the luxury to opt for new cabinets that are multipurpose and thus more helpful. In a nutshell, with kitchen remodeling Sarasota families can themselves enjoy a much better kitchen and at the same time get rewarded substantially by the appreciated value of the property.
---