Latest Blog Entries
Driving by this home in Sarasota's Stoneybrook Golf & Country Club, you wouldn't guess the stunning transformation you'd see inside if you walked through the front door. We're super excited to open the doors to you of what's now our latest full home remodel. From the kitchen to the master to the guest wing, we're really happy about the final result.
Starting in the main area of the home, there used to be a huge wall separating the great room and the kitchen. Well, that wall's gone now, opening up the kitchen into the great room. The two-toned kitchen has a different-colored island and woods that accentuate the wood-look stone composite flooring. The stone composite is just another step up from luxury vinyl as it uses limestone. It just adds to its strength and durability. We ran the quartz countertops right up the back of the wall for the backsplash beneath the Medallion Cabinets.
CABINETS: Medallion Cabinetry
Interior Finish (Cabinets with Glass): Natural Maple Plywood
Interior Finish (Cabinets without Glass): Irish Crème Classic
COUNTERTOP: Pompeii Quartz – Valley Sand
FLOOR: Color - Greige
If you look at some of the before pictures, you'll notice the pink floral wallpaper throughout the home. Thankfully, that's all gone. We decided to paint a nice off-white, almost gray for the walls in the main space. It really expands the look and makes the area feel great and large. We're looking forward to seeing the furniture in here!
In the master, we changed how you enter the space, but we didn't change the size. We have this nice master bedroom with plenty of space for a TV, dressers, a king bed, and nightstands. We love how this came out. We took the wall color form the main space and picked a darker version in here to add some warmth and drama.
There's a huge difference in the master bath. The clients love how the colors go together in here. We're using the same color-toned cabinets in here that we used in the kitchen. We brought them in here to add some warmth to the space since we used some lighter tiles on the floor and walls. There's definitely a soothing spa feel in here. We also added some cool elements in here like the waterfall on the end of the sink bases and the waterfall in the shower area, which doubles as a ledge for your products like your razor or shampoo.
TILES: Happy Floors
Shower Walls & Floor: Onyx Honey
In the guest bath, we used a similar tile that's in the master bath. We just changed the color and the direction of the pattern. This adds a connection to the space throughout, giving the entire home a cohesive look.
TILE: Happy Floors
Shower Wall: Onyx Milk
Bathroom Walls: Onyx Porcelain
We hope you like the remodel just as much as we do! A big shout out to Jerry Schanz and the crew for their great work. The homeowners absolutely love how their home turned out. My question for you now is… is your home next?
Follow me on Instagram.
Email me at jclark@cabinetsexta.com.
ABOUT THE AUTHOR
Joe Clark is a passionate designer, lighting specialist, published writer, English Premier League fan, and Porsche/Automotive enthusiast who uses his technical background from years of experience in the design, engineering, and building industries to help inspire his clients to journey through the creative process with him.
---
Stuck at home without a whole lot to do but binge-watch some Netflix? Let's be honest, that only works for a little while before you're bored, right? (LOL!) Now would be the perfect time to start working on a new design for a space in your home!
I know you guys have been staring at that one bathroom (or insert other rooms of choice here) for years, wishing you would have done something to it, so here is your chance! You have a bit of extra time on your hands, so spend that time investing in finding out what your "ultimate" space would be. Look up photos of rooms for inspiration, find colors that you love, just all around allow yourself to be creative as creativity (next to laughter) is really great medicine. Then we can help take your dream board, mix it all together, add some chocolate chips (sorry, I had a craving there for a second for some cookies), and come up with a design customized to you, your space, and your vision!
As designers, there is a lot that we can do remotely to help you with your design journey, especially now with all of the technology and fun websites at our fingertips: Skype, Facetime, Pinterest, Instagram, Facebook, Houzz… you get the idea. With all of this available, a lot of the design and selection process can be done remotely, which means that those home improvement projects don't need to be put on hold (it's actually a really great time to work on designs!). Plus, with UPS and the Post Office still operating, we have the ability to send you samples when needed as well.
In this unique time in history, we are all adapting daily to the changes and doing what we can to stay safe and healthy, but it doesn't mean we can't have some fun and be creative. So, though many of you may need to be at home, we can still work with you remotely. With that being said, and with our time away from the "everyday life," how about investing in something new, and let's work together to make your designs a reality!
Ready to start designing?
Visit our Website.
Follow me on Instagram.
Email me at jclark@cabinetsexta.com.
ABOUT THE AUTHOR
Joe Clark is a passionate designer, lighting specialist, published writer, English Premier League fan, and Porsche/Automotive enthusiast who uses his technical background from years of experience in the design, engineering, and building industries to help inspire his clients to journey through the creative process with him.
---
The design and construction world is forever changing, and our industry saw some of those changes last month. Some of our staff went to KBIS (Kitchen Bath Industry Show) in Las Vegas. While they were there, they had classes to sharpen their skills and stay up to date on licensing and education. They also spent the better part of two days walking a show that was over one million square feet. So much to see and learn. We go to these types of events so that we can share what's going on in the business and the newest and latest items coming to the marketplace. Something that jumped out at me at KBIS was the Champagne Gold hardware and plumbing fixtures. I can't help but fall in love with this color. It's gaining traction, and we're seeing it used more and more. The color is just stunning while screaming "look at me!"
It looks like as we move further into 2020, we'll be seeing more contemporary designs with flashes of bright color, and more textured finishes will be used. We continue to get excited by the ideas that our clients bring through the door. Since we're a design/build firm, we can tackle these ideas head on. By the way, when you begin working with us, we offer and encourage you to use our FREE design services. We have award-winning designers on staff who are ready to help you get through the many questions and selections prior to the remodeling construction process. Just think… you'll be working with a person who will help you keep track, navigate, and manage the many ideas going through your head. We work to make it less stressful by limiting selections and keeping them pertinent to your budget and wish list.
Remember, this process can be fun. Our staff operates so that you can relax and enjoy the moment and finally, the remodel itself. We're continuing to grow as a company, and we hope that 2020 brings us great projects that not only keep us busy but will challenge us to think outside the box.
We're starting to move in a direction that offers more transparency while sharing great information, pictures, and online blogs. We believe social media is the future of client communications and inspiration. So, please visit us on Facebook, Instagram, LinkedIn, and Twitter. We look forward to your comments and likes on these platforms. Thank you for taking the time to read this and catch up on what we're doing!
Want to find out more?
Call us at 941-342-3443
Visit our showroom located in Sarasota at 5686 Fruitville Road
Email me at dan@cabinetsextra.com
ABOUT THE AUTHOR
Dan has been one of the Suncoast's leading kitchen and bath professionals for over a decade and has been a part of over 1,300 projects. He has a true passion for connecting with clients and bringing their dream spaces to life while implementing a fun, energetic, and enjoyable construction experience.
---
Have you been in your home a while and want to change things up a bit? Or are you in the process of building and aren't sure what to do with the space?
These sorts of questions come up more often than not, and it typically has to do with how a space is defined. Floor plans typically "define" areas in order to help clarify the space, and the tendency is to go with those parameters as you are designing your home. However, you don't necessarily need to follow these definitions (a simple example would be using your "den" as an "office"). What I'm alluding to in this case is something that I'm sure many of you have experienced: the "multiple dining syndrome" (yes, we're coining the phrase!). This "syndrome" is defined by having your "dining room" next to your island, which is right next to your "breakfast area" and adjacent to your "bar." You end up with four spaces contiguous to one another that all serve the same purpose of being the landing point to eat. Why do you need so many so close together? What tends to happen when they're all in such tight proximity to one another is that at least one of the spaces typically becomes a drop zone for a vast array of things (those of you with piles of mail, laundry, etc. in your dining room because you don't use it know what I'm talking about!), so in essence, it becomes a wasted piece of square footage. I'm here to tell you, there is a solution!
What is that, you might ask? You've all heard the term "re-purpose" as it is associated with design, but what I am proposing is to "redefine." You have a formal dining space you want to keep… check! Now, you eat your breakfast mostly at the kitchen island, so what should you do with the "breakfast nook?" Why don't you make this a sitting area? These areas are typically right next to a bay window or a view to the outdoors, so why not remove the table and chairs, add a couple of lounge chairs (or if you're feeling frisky and debonair, how about a pair of wingback chairs?) and use the area to enjoy your coffee in the morning or read a book.
All of this to say, just because the space "says" it should be one way, doesn't mean it has to be only that. Redefine and "re-purpose" to suit your lifestyle!
Ready to redefine your space?
Visit our Website.
Follow me on Instagram.
Email me at jclark@cabinetsexta.com.
ABOUT THE AUTHOR
Joe Clark is a passionate designer, lighting specialist, published writer, English Premier League fan, and Porsche/Automotive enthusiast who uses his technical background from years of experience in the design, engineering, and building industries to help inspire his clients to journey through the creative process with him.
---
The kitchen is one of the first rooms homeowners explore when it comes to renovations. It's the main gathering place in the home for families and friends after all. It's the area where socialization happens most of the time, so it makes sense to choose this room to remodel. A kitchen remodel can be extremely fun, and it should be. There are so many small changes that can be made to completely transform a kitchen that it's mind-boggling. But the big question is, is this remodeling project a sound financial decision? Let's see…
What you need to do first is look at the long-term picture. Are you remodeling the kitchen for your preferences, or will you be selling your home in the near future? Either way, renovations to the kitchen can help save money down the road. If you're planning to stay in the home, you can explore some new choices that can help save your monthly utility bills. You can opt for new energy efficient windows that can save you on electricity. You can install low flow faucets to save on water consumption. You can buy appliances that are more energy efficient. You'll also experience personal satisfaction that your new kitchen is more operational and updated than it was previously.
If you're planning to sell your home, you can expect a very significant return on your investment with a renovated kitchen. If you ask any realtor, they'll tell you that one of the first things a potential buyer is interested in is the kitchen. If your kitchen is fresh and updated with contemporary designs, it will make your home stand out against homes that have an older kitchen. You can expect to get a return of at least 40% of your remodeling investment when you list your home.
A home kitchen makeover is a very sensible choice, especially if you have the budget to remodel only one room. The kitchen is central to the home, and you can spend a lot of time cooking, eating, and socializing in it. The benefits of new and updated appliances and other elements far outweigh the costs you'll incur. You'll be surprised at how far you can get with virtually any proposed budget. When your project is finished, you'll realize it was money well spent.
Ready to start your kitchen remodel?
Call us at 941-342-3443
Visit our showroom located in Sarasota at 5686 Fruitville Road
---
So, it's the New Year. You're setting new goals, planning for new endeavors, and dreaming about things to come. As someone who is creative, I understand the importance of dreaming and allowing your creativity to expand. If you are going to dream, dream big! Dreams will stay dreams forever unless you come up with a plan for that dream.
Half the battle when you are creating is implementing these great ideas while whittling them down to a concise and manageable design. A great first step is to write those ideas down in a notebook (or something similar), but when it comes to designing a space, it may be helpful to take it another step further. How about a dream board?!
You want to redesign your space, right? You've been on Pinterest and Instagram perusing photos and coming up with ideas. You have all of these great pictures saved (or liked), so don't be afraid to go that extra mile and turn it into a collage (which you could do on your computer, an app, or on your phone). Grab your favorite pics and organize them together by room or space. Once they are all in the same place, you will begin to see a vision for the overall look for your design. Organizing your thoughts into a concise idea truly does help motivate you to begin implementing those ideas too. (Design tip: don't just add pictures for one room; add photos to your dream board from all different spaces throughout the home… the kitchen, dining, living… that way you can capture the entire vision and confirm a cohesive look). This not only helps you get a clearer vision of what you want for your space, but it helps us, as designers, help you define your style, AND it gives us a great launching pad to take your ideas and turn them up a notch to create a unique space tailored to you.
Let's start the New Year off right. Get that dream board "on paper," and we can start creating your new space together!
Have your dream board ready? Let's talk!
Visit our Website.
Follow me on Instagram.
Email me at jclark@cabinetsexta.com.
ABOUT THE AUTHOR
Joe Clark is a passionate designer, lighting specialist, published writer, English Premier League fan, and Porsche/Automotive enthusiast who uses his technical background from years of experience in the design, engineering, and building industries to help inspire his clients to journey through the creative process with him.
---
We've seen a few new trends in 2019. What I personally have noticed was the shift from the standard "white shaker" to the sleek "slab door" with colors that move from silvers to even more flashy tones. I'm closing the year out with my first navy blue kitchen design. Navy has been knocking on "trendy's" door for a minute now. With the navy blue, we also will be using champagne gold hardware to accent the space with what I call the jewelry of the kitchen.
Here are a few 2020 trends I am excited about. Very cool islands and splashes of color are all expected to be on the "hot list." We love a classic white kitchen, but lately, we've seen requests for navy millwork. It blends beautifully with marble and brass.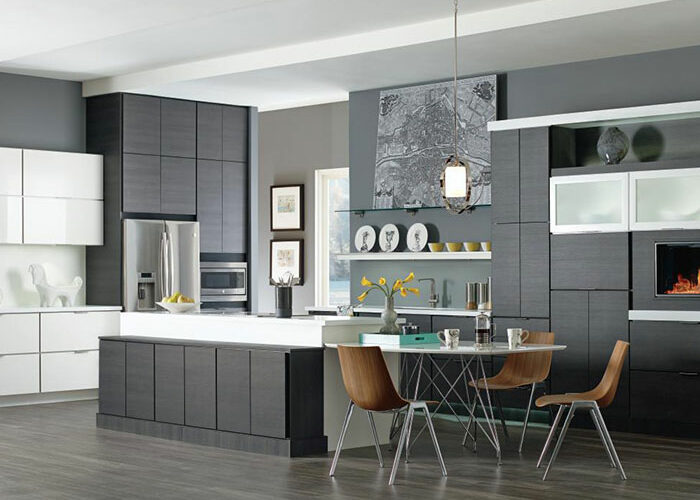 We're seeing updated classic designs for kitchens, amping up the glamour factor without making you feel oddly out of place having coffee in a bathrobe.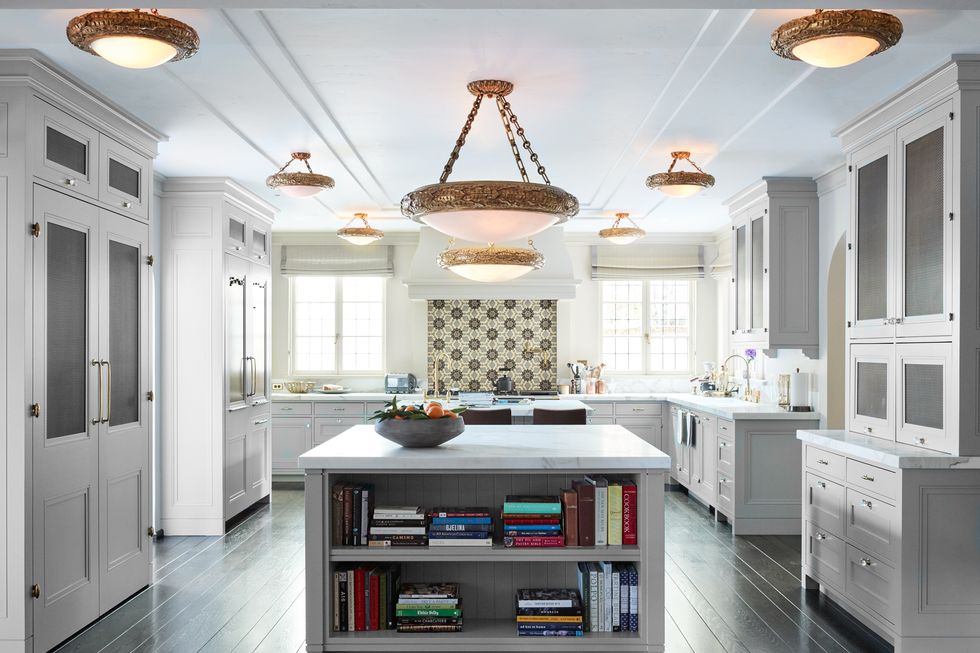 UNEXPECTED COLOR POPS
Using color in unexpected places like appliances and hoods. If you love color, it's a fun way to incorporate it and make a regular appliance feel special and custom.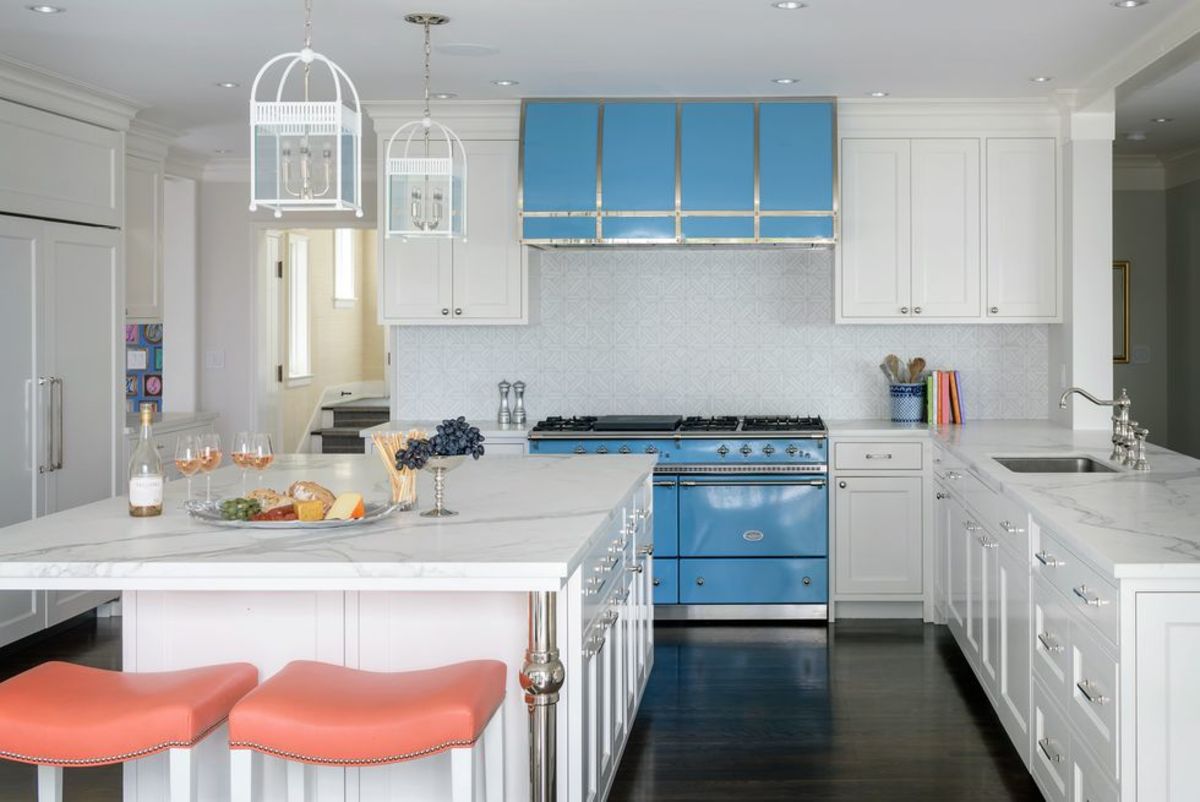 GRAVITY DEFYING ISLANDS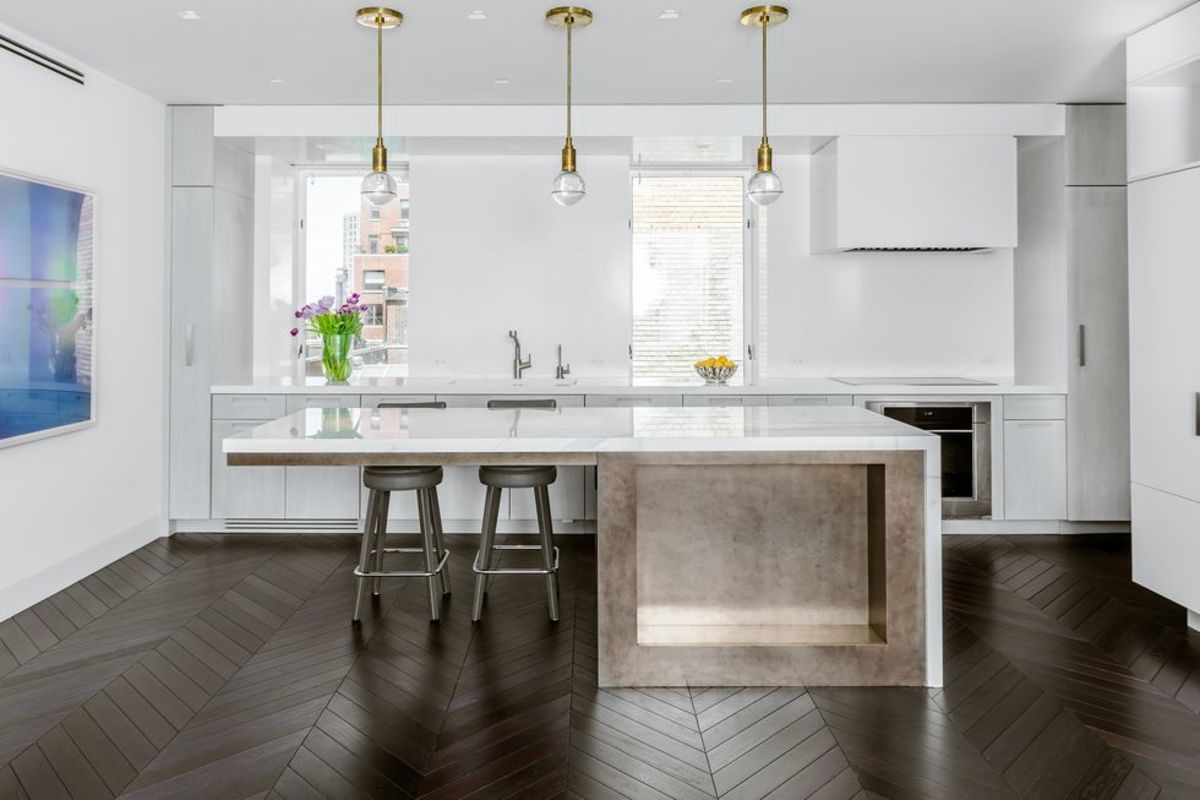 Many of our clients are looking to maximize the sense of clean lines. We continue to see quartz countertops being used in most applications, but when natural stone such as a quartzite or granite are chosen, they seem to be on the more luxurious side with the beautiful movement and veining. The cost of quartz is also trending up due to tariffs placed on those items, leading to higher cost and an overall price of a project. The cost of remodeling kitchens, bathrooms, and other types of spaces has of course risen also, as seen even with the products we purchase from our daily groceries to larger items such as cars and homes. Overall, it costs more to do just about anything in today's market. The great part about working with us is we have trained staff to keep you in budget to produce an incredible space. We have over 100 years combined of experience from project planning to project completion. There is not a lot that we have not seen or done when it comes to construction.
My wish for 2020 is that when people are deciding on a project to tackle or a contractor to hire, they really dive into the companies they are considering for the task of transforming whatever it is they wish to do. Be prepared. Know the companies' and contractors' backgrounds. Are they compliant with all the necessary licensing and up to date on their policies? Overall, be a well-educated buyer. We are very transparent and forthcoming with our potential and existing clients. We want you to enjoy the process and the many thrills it can offer.
So, for the next 365 days, let's get classic but not too classic. Let's get funky, but with style, and overall, we hope that 2020 brings you a year full of gratitude, good health, and wellbeing.
Thank you for following me on our last blog of 2019! Happy New Year!
How can you contact me?
Call us at 941-342-3443
Visit our showroom located in Sarasota at 5686 Fruitville Road
Email me at dan@cabinetsextra.com
ABOUT THE AUTHOR
Dan has been one of the Suncoast's leading kitchen and bath professionals for over a decade and has been a part of over 1,300 projects. He has a true passion for connecting with clients and bringing their dream spaces to life while implementing a fun, energetic, and enjoyable construction experience.
---
Wallpaper. The word, for some, causes cringing and snarling due to the thought of the horrendous stripes and floral patterns of old. I am here to tell you that these beautifully awful patterns are indeed no longer in vogue. However, the use of wallpaper still is! I know this may come as a shock, but there are some really great products out there that are no longer a "grandma's sitting room" sort of pattern. Plus, with the development of the paper itself, along with glues to help bind it to a wall, it is much easier to remove in case you change your mind down the road. Since it's Christmas and wallpaper can be like wrapping paper, I thought now would be a fun time to talk about it!
With the development in the styles as well as the application, wallpaper has become a fun medium to create with. 3-D forms, monochromatic patterns, exaggerated geometric shapes… all inspiring creativity and adding texture to a space. Texture, when in relation to design, doesn't always mean a physical element that you can touch. It also applies visually to a space. When you go the route of adding texture to a room, you can in turn create depth to your design, which, as a result, adds warmth to your space. As we all know, adding that warmth to the design of a space helps create that transition from just being a house to being your home.
So, if home is where your heart is, and your heart loves glitter (Dawn!), then give yourself a gift for your home this holiday season. "Wrap" a room/powder bath/etc. with a fun, exciting, sparkly (and even 3D) wallpaper that will inspire joy within you throughout the year!
Want to talk about wallpaper with me?
Visit our Website.
Follow me on Instagram.
Email me at jclark@cabinetsexta.com.
ABOUT THE AUTHOR
Joe Clark is a passionate designer, lighting specialist, published writer, English Premier League fan, and Porsche/Automotive enthusiast who uses his technical background from years of experience in the design, engineering, and building industries to help inspire his clients to journey through the creative process with him.
---
At Cabinets Extraordinaire, our staff is our #1 asset.
As a team, we have what we believe is the most knowledgeable, friendly, and well-rounded team in the area if not the state. We have carefully chosen each member of our team and have also gone to great lengths to ensure that we all not only bring to the table a ton of design and construction knowledge, but also people whose personalities mesh well with the team we have in place.
Dawn, Kerri, Lisa, and Tracy are an integral part of our staff who bring so many things together that fit beautifully and perfect. Before and after the process of design and the completion of a project, many items must stay on track such as ordering, processing purchases, client scheduling, change orders, billing, and so many other things that get done daily behind the scenes. Looking at our construction team, two words come to mind: "thorough and competent." Dealing with multiple projects of different sizes and complexity, our team of Project Managers work tirelessly to keep things moving in a forward direction at a pace that satisfies our clients and other trades working hand and hand with Cabinets Extraordinaire.
We too think that our team of construction personnel is the best of the best. We believe this to be true, not because we just felt like saying it, but because time after time, our clients have told us that "we just get it" and that "we really know what we are doing." As a team, we choose to grow through continued education, group exercises, and staying up to date with current and lasting trends. And finally, we grow by respecting each other and by working as a team. We learn and grow together while enjoying the complex world of remodeling and renovations. So, by continuously working together to achieve our clients' wants and wishes, we continue to build the rock-solid foundation that is Cabinets Extraordinaire.
How can you contact me?
Call us at 941-342-3443
Visit our showroom located in Sarasota at 5686 Fruitville Road
Email me at dan@cabinetsextra.com
ABOUT THE AUTHOR
Dan has been one of the Suncoast's leading kitchen and bath professionals for over a decade and has been a part of over 1,300 projects. He has a true passion for connecting with clients and bringing their dream spaces to life while implementing a fun, energetic, and enjoyable construction experience.
---
So here's the scenario… you moved or have a place in, let's say, Sarasota. It doesn't need to be huge, and most of the time when you are here, it's just you or you and your significant other. Occasionally, you have friends and/or family visit, but it typically isn't for extended periods of time. You have a three-bedroom you are wanting to remodel, but currently, everything seems to just be too small or too close together. What do you do?
The hardest part of the process is allowing yourself to be bold in your decision to renovate. Many times when starting the process of thinking about remodeling, it can be tough to imagine the space outside of its current proverbial "box," especially if you have owned or been there for a while. Re-envisioning the space for your lifestyle can be imperative. Why go through all of it just to put it back the way it was, especially if it wasn't the best fit for your lifestyle?
I may ruffle some feathers with this next statement, so here it goes (any realtors reading this may want to turn away now, LOL!). If you love your home/condo/villa, your location is great, and you don't plan on going anywhere for a while, why not make your space a two-bedroom instead (there it is… I said it)? I know, you're thinking that this move will devalue your property, however, if I may… if it's designed well, that won't really matter!
Too often, many go through the process thinking about the "next" person who "may" purchase the property, rather than designing it to their liking. You should LOVE your space, not just think it's okay.
Of course, the idea of re-envisioning the space with one less bedroom is not applicable in every situation, but sometimes your space and how you use it calls for a drastic change like this. For example, maybe the current configuration with the three-bedroom has no dining space and a tiny living room. By removing one of the superfluous bedrooms (let's be honest, you probably didn't use it anyway) and combining that newfound square footage into your unit, you may gain the space you always wished you had… two bedrooms with one suite bathroom and a big enough living room to actually fit a sofa in, etc.
So what it comes down to is don't let your current space dictate the design. Let's get creative and define your space the way you want it to be!
How can you contact me?
Visit our Website.
Follow me on Instagram.
Email me at jclark@cabinetsexta.com.
ABOUT THE AUTHOR
Joe Clark is a passionate designer, lighting specialist, published writer, English Premier League fan, and Porsche/Automotive enthusiast who uses his technical background from years of experience in the design, engineering, and building industries to help inspire his clients to journey through the creative process with him.
---
Cost Vs. Value 2019
Every year a cost versus value sheet is released on to the masses so that we know what the National & State averages are to doing things like windows and doors to an upscale Kitchen or Bathroom remodel. There are multiple reasons why we at Cabinets Extraordinaire pay attention to these articles. One is of course to see where we are on the scale with other builders doing similar projects that we also handle. It is a great way to see who is practicing within the averages of pricing throughout the Nation. When you, as a client, are presented these documents, it can be a real eye opener of what things cost in today's market. So, when you are contemplating any type of project it can help you decide on what type of budgeting you can expect and begin the process for you to wrap your mind around where you want to be with your targeted budget.
For example, what does your average guest bathroom cost and what is included for that price.
Your average guest Bathroom is at an average of $18,500
That would include an update to a 5' x 7' room with new updated fixtures that includes a porcelain over steel tub with 4" x 4" ceramic tile surround. New single lever temperature and pressure balance control valve; granite type countertop with drop-in sink. A standard new toilet. Flooring with either a 12" x 12" ceramic tile or vinyl type flooring.
A Custom or Upscale Master Bathroom remodel cost are at an average of $60,500
That would include adding 35 Sq. Ft. to the existing room within the existing property footprint. Relocation of all plumbing fixtures. Includes removing of soaking corner tub and enlarging the shower. New porcelain shower surround floor and wall tile including frameless shower glass enclosure. Free-standing tub with floor mounted tub filler. Granite or Quartz countertops with high-end faucets and sinks. Two mirrored medicine cabinets with a new lighting package. Also, it could include items like heated floor or heated towel bars. Multiple tile designs within the space. The cabinetry would be of a custom variety with options like drawers or an integrated hamper, a salon type drawer pull-out. You get many more options with this type of space and budget.
Here are a couple more items that show averages in the Sarasota area.
Average Kitchen Remodel -$50,000- $63,000

Upscale Kitchen Remodel - $100,000- 126,000

Midrange Master Suite Addition - $120,000

Upscale Master Suite Addition - $ 250,000

Complete 1500 Sq. Ft. Condo Build out -$250,000 - $375,000
These are costs that can fluctuate from project to project depending on the cost of items selected on a per job basis. We wanted to try to be helpful and set an example of preliminary budget numbers that a client can review when preparing to start a renovation.
Also, I wanted to just explain to people why we work on a retainer. One of the things you get when working with us, is the concierge design service we offer. Remember, this is not in addition to the contract but part of the included investment when doing business with us. We are a team of award winning, multi-published Designers who will work tirelessly to nail down the overall design right through to the many fine details that are required when operating at the level at which we strive to provide in our service.
No where else will you find that type of service for FREE!!! Every penny of the retainer is applied to the contract at time of signing.
WE love being transparent with our clientele so that you too know what is happening on daily with you project. Thank you for reading and we hope this helps with your decision when hiring a Licensed Contractor for your DREAM Project.
---
What happens if I am not around during the remodel?
When making the decision on when to start a project some people prefer to be at the Home/Condo where the work is being done. Others opt to have the project completed while they return to their second home up north or abroad. Either is fine with us. At Cabinets Extraordinaire we totally understand someone wanting to be around in case questions arise or things change during the process. Some, remodels are so intense it is impossible to complete the job while upholding livable conditions. We work with each client to help facilitate conditions that support their lifestyles and daily living routine.
Let's look at a project that is going to start while the homeowner is away. These details will all be discussed during the design and contract phase, so we know how to approach the situation. If a client is returning to their home somewhere else, we have a whole approach on how to maintain clear communication as well as ways to keep the client engaged on what is happening on a day to day basis with their project.
What is BUILDERTREND?
Buildertrend is an in-house program we use every day. It is an on-line program where we can communicate with employees, venders and sub-contractors. Buildertrend also gives the ability to bring in the homeowner to our world. What does that mean? When we are building out a project from the start, typically the client is given a USERNAME and PASSWORD to login to the program. This allows you to follow what is happening behind the scenes such as Permitting processes and scheduling and cabinet whereabouts. Another very cool thing that Buildertrend offers an on-line calendar that you have access to see what is happing and what's been completed. If you login and go to the "schedule" you will see items such as permit applied for and permit delivered. Other things such as Cabinet delivery and cabinet install date. We build this calendar for our in-house employees, sub-contractors and client. We believe that by involving the client it helps to minimize phone calls and questions that can be answered simply by logging in and reviewing what info has been posted on-line. The program also is great for photos. We continually up-load pictures and progress reports so you not only know what's going on, you can see the progress.
Living through a remodel and what can I expect?
When the only option is to move forward while living at the residence where the remodel is taking place, we also have protocols we follow as to try and minimize the disruption of daily activities. If we are doing a bathroom remodel obviously you would use one other baths. If it is your master bath that is connected to your master bedroom, you can possibly live in another bedroom while using the guest bath. Kitchens are notoriously built in the center part of the home. This can be tricky especially if there is a family with children at home. You can plan to eat out for possibly a couple of months. There are other things you can do like, move the fridge to another room or garage. Sometimes we have seen clients set up a kitchen workspace in the garage that includes a refrigerator, microwave and small toaster. If you are lucky enough to have an outdoor kitchen, well fire up that grill and plan on grilling some great steaks or burgers for a while.
We hope this helps and gets you excited about working with a company interested in making your project one that involves you the client and helps keeping things transparent and interesting.
Cabinets Extraordinaire is available in the Sarasota 34234, Longboat Key 34228, Siesta Key 34242 and Lakewood Ranch 34202 areas.
---
When you are working with Cabinets Extraordinaire we offer what we believe is the #1 service of its kind when building in the Sarasota, Longboat Key, Siesta Key or Lakewood Ranch areas. Anytime you take on the task of remodeling a Kitchen, bathroom or a complete Condo Build-out there are literally sometimes 100's of choices to be made and documented. We are here to be your personal note-taker as well as someone who will work tirelessly to maintain a record of the decisions made and what decisions still need to be made all while keeping the cost and budgeting on track.
We are extremely proud of the team we have put together here at our firm. The design talent that we acquired through our extensive hiring process to the team that works together to answer even the most mind boggling questions that arise during the "design" phase is a product of combining the areas top talent and making a team that fits just about all types of people and concepts from fun to funky to absolute elegance.
You will be assigned a Designer once you have explained what you are looking to do, and we have decided who would best be paired to maximize the experience and build. The relationship formed during the concept to the completion, can be one of trust, one of understanding that we know what we are doing, and you can rely on us to educate and explain products, specs and finishes. We find that at the end of a project there are true lasting friendships that were formed during this process.
The Designers job is to listen first. We need to pull out what your "vision" is and how we can add value to it, what makes it "yours". We work with some very "cool" cutting edge software programs that produce a 3D layout for you whether it's a Tuscan Lakewood Ranch Kitchen with incredibly hand crafted doors that feature things like Wood Knots to Vintage Distressing or a Longboat Key Condo featuring Sleek Modern Contemporary cabinets that offer all the self-opening/closing doors and drawer features to the High Gloss Custom Finishes. Either way we know what to do and we do it very well. We have large print layouts published in Sarasota's top Design Magazines as features, to the awards we receive year after year for our "out of the box" thinking or that have been given for our Professionalism and timeliness of our projects.
Finally, with the volume and caliber of work we produce we have established some enviable relationships in Sarasota and the surrounding areas. These relationships when looking for that perfect faucet or that sitting area in your custom wine room that needs the perfect chairs and ottoman are key to finalizing your product. Some items like a custom tile from an outside vender need to be shown to get the "WOW" factor we are looking for. That's why having the right Designer and back up staff are so important.
We hope this article/Blog is helpful when making a decision on the appropriate Firm to hire.
---
We spend time picking selections, making design decisions and finalizing the numbers. Now what!
Well this is where the real work starts. After signing a contract with Cabinets Extraordinaire/Cabex Construction, there are a lot of things that need to get completed prior to the start of a project. For example, we will need to complete a "Survey" of the project. This is where we will double check our measurements and layouts to be as accurate as possible to assist in the ordering process of both cabinetry and tile/flooring selections.
Next, we order materials such as cabinetry, tile and fixtures. As we are a full custom cabinetry company some of these items can have delivery dates as far as 12 weeks from time of purchase.
During this period there will be several weeks that you may not hear from us. That does not mean we are not working on your project, we absolutely are. Behind the scene the work never stops. We have worked extremely hard at finding the right people to fill the positions to do the tasks required to deliver you an exceptional finished product. Take for example our Purchasing Manager, Kerri who tirelessly checks, double checks and sometimes triple checks the cabinetry layout, the items to be ordered such as faucets, tile and asks any required questions to the manufacture prior to ordering.
So, don't worry we are working behind the scenes to order and facilitate a product that not only looks amazing, but one that's works and is highly functional.
The permitting process can also be quite time consuming. We will file for the permit after it too is checked for accuracy and completed so that once filed, we receive the permit without problem.
Once we have received all the delivery dates and the permit has been approved for pick up, we can start the process of scheduling out the project. We are aware that up to this point almost all of the information you have received was from your Designer however the scheduling process is done by your assigned Project Manager. He will contact you to set up a "PCC" which is a "pre-construction conference". That is a meeting where things such as "where is the water and electrical shut-offs". Is there furniture, flooring and other important personal items that need to be moved or protected. This is a time where "you" the homeowner can ask any of the questions you might have also. Once we are all on the same page, we will can proceed with the start of the project.
So, remember these few things:
Selections, Design and Contract - done with Designer
Survey - done with Designer and Project Manager
Permits and materials ordered - done by the inhouse support team
Scheduling of the project - with Project Manager
PCC meeting- done with Designer and Project Manager
Project start – The Whole TEAM!
Construction in your home can be nerve racking and disruptive to your daily routine. We will do everything we can to minimize these disruptions and keep you informed of the process along the way. But, it is construction and more than likely there are minor hiccups along the way. Please prepare to maybe eat meals out or use the "other" Bathroom during the build phase of the project. If it is a large-scale project meaning multiple rooms, it might be wise to move out of the house for the period of the remodel. Something you should discuss with your Designer and Project Manager.
Why 50% Down!
When we enter into a contract there are purchases and fee's that need to be paid immediately. Let's take cabinetry and permits. Cabinetry is most often the largest expense when doing a project and those need to be paid for upfront because they are custom built specifically for your project and only your project. Once we place an order, we can't make any changes or cancel at any time. Permitting cost and other state and local fee's associated with construction industry are another item that require upfront payment. Countertops are also a large purchase made by us and in order for the fabricator to hold your selected countertop a 50% deposit must be made immediately to secure the product. SO now you know why the 50% down payment is so important and what it is used for.
We hope with all of this new information you have learned it is both informative and reassuring that we have your project and your needs covered!
We look forward to working together with you on your project. We welcome you to the Cab Extra Family.
---
Wolf is not just a leader in ovens and grills, but also a leader in microwaves. Take for example the microwave drawer by Wolf. There are 3 new products to look at, the 
Wolf 24 Drawer Microwave Transitional, Wolf 30 Drawer Microwave Professional, Wolf 30 Drawer Microwave Transitional.
Microwaves can be an eye sore in a kitchen, but these particular drawers make having a microwave look cool.
The photo says it all, it is sleek, practical, and a great addition to your kitchen remodel.
---
Add a POP of glamour to your kitchen with a mirrored backsplash. Found this shot at another great site to find inspiration for your next remodel or new construction project: http://www.miss-design.com/.
---