What 2019 Has Taught Us
We've seen a few new trends in 2019. What I personally have noticed was the shift from the standard "white shaker" to the sleek "slab door" with colors that move from silvers to even more flashy tones. I'm closing the year out with my first navy blue kitchen design. Navy has been knocking on "trendy's" door for a minute now. With the navy blue, we also will be using champagne gold hardware to accent the space with what I call the jewelry of the kitchen.
Here are a few 2020 trends I am excited about. Very cool islands and splashes of color are all expected to be on the "hot list." We love a classic white kitchen, but lately, we've seen requests for navy millwork. It blends beautifully with marble and brass.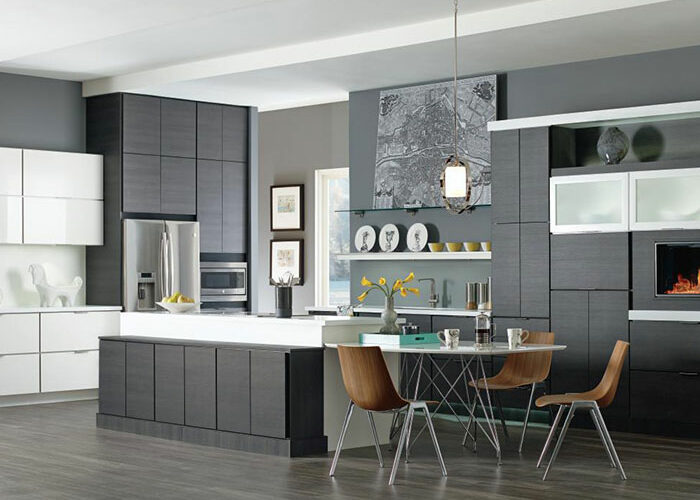 We're seeing updated classic designs for kitchens, amping up the glamour factor without making you feel oddly out of place having coffee in a bathrobe.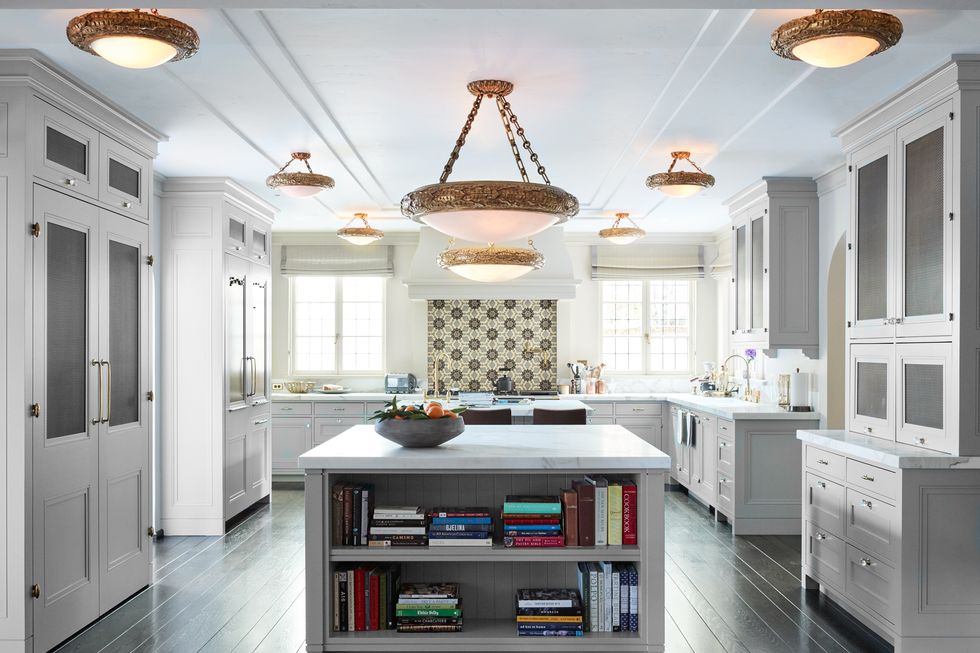 UNEXPECTED COLOR POPS
Using color in unexpected places like appliances and hoods. If you love color, it's a fun way to incorporate it and make a regular appliance feel special and custom.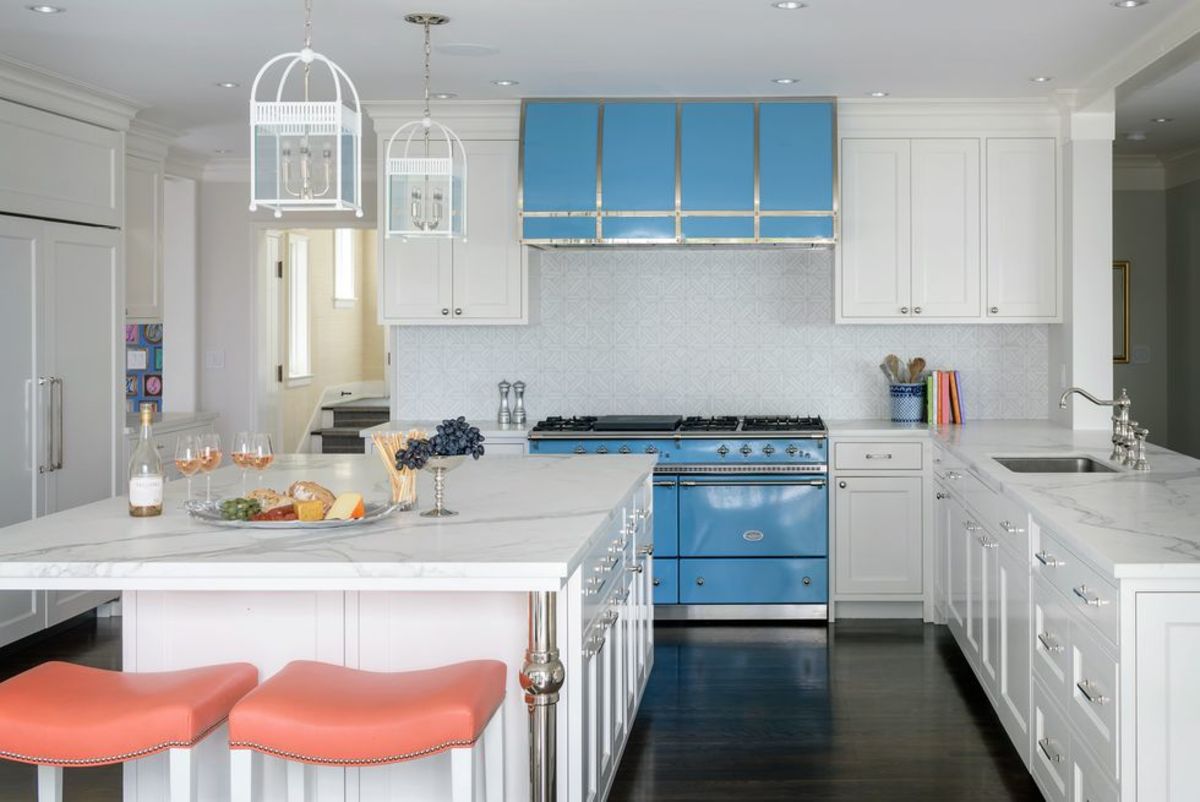 GRAVITY DEFYING ISLANDS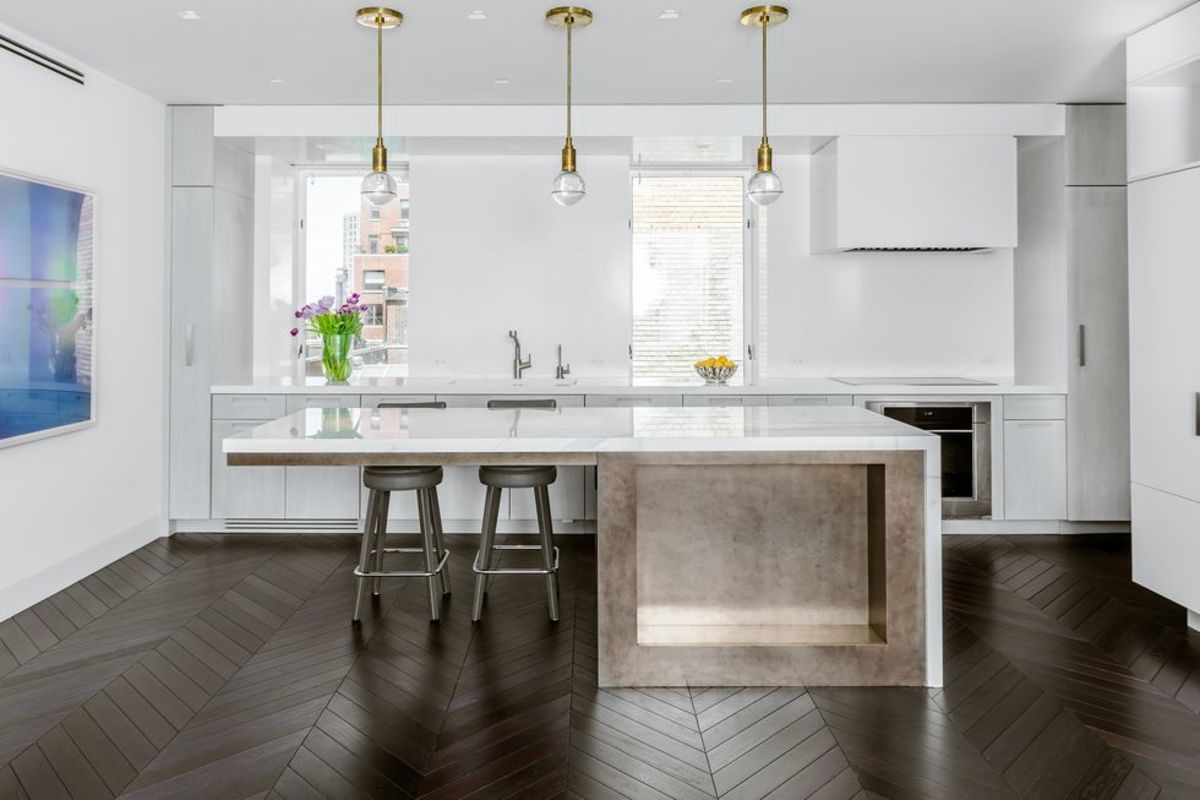 Many of our clients are looking to maximize the sense of clean lines. We continue to see quartz countertops being used in most applications, but when natural stone such as a quartzite or granite are chosen, they seem to be on the more luxurious side with the beautiful movement and veining. The cost of quartz is also trending up due to tariffs placed on those items, leading to higher cost and an overall price of a project. The cost of remodeling kitchens, bathrooms, and other types of spaces has of course risen also, as seen even with the products we purchase from our daily groceries to larger items such as cars and homes. Overall, it costs more to do just about anything in today's market. The great part about working with us is we have trained staff to keep you in budget to produce an incredible space. We have over 100 years combined of experience from project planning to project completion. There is not a lot that we have not seen or done when it comes to construction.
My wish for 2020 is that when people are deciding on a project to tackle or a contractor to hire, they really dive into the companies they are considering for the task of transforming whatever it is they wish to do. Be prepared. Know the companies' and contractors' backgrounds. Are they compliant with all the necessary licensing and up to date on their policies? Overall, be a well-educated buyer. We are very transparent and forthcoming with our potential and existing clients. We want you to enjoy the process and the many thrills it can offer.
So, for the next 365 days, let's get classic but not too classic. Let's get funky, but with style, and overall, we hope that 2020 brings you a year full of gratitude, good health, and wellbeing.
Thank you for following me on our last blog of 2019! Happy New Year!
How can you contact me?
Call us at 941-342-3443
Visit our showroom located in Sarasota at 5686 Fruitville Road
Email me at dan@cabinetsextra.com
ABOUT THE AUTHOR
Dan has been one of the Suncoast's leading kitchen and bath professionals for over a decade and has been a part of over 1,300 projects. He has a true passion for connecting with clients and bringing their dream spaces to life while implementing a fun, energetic, and enjoyable construction experience.
---