All entries tagged with "2020 trends"
The design and construction world is forever changing, and our industry saw some of those changes last month. Some of our staff went to KBIS (Kitchen Bath Industry Show) in Las Vegas. While they were there, they had classes to sharpen their skills and stay up to date on licensing and education. They also spent the better part of two days walking a show that was over one million square feet. So much to see and learn. We go to these types of events so that we can share what's going on in the business and the newest and latest items coming to the marketplace. Something that jumped out at me at KBIS was the Champagne Gold hardware and plumbing fixtures. I can't help but fall in love with this color. It's gaining traction, and we're seeing it used more and more. The color is just stunning while screaming "look at me!"
It looks like as we move further into 2020, we'll be seeing more contemporary designs with flashes of bright color, and more textured finishes will be used. We continue to get excited by the ideas that our clients bring through the door. Since we're a design/build firm, we can tackle these ideas head on. By the way, when you begin working with us, we offer and encourage you to use our FREE design services. We have award-winning designers on staff who are ready to help you get through the many questions and selections prior to the remodeling construction process. Just think… you'll be working with a person who will help you keep track, navigate, and manage the many ideas going through your head. We work to make it less stressful by limiting selections and keeping them pertinent to your budget and wish list.
Remember, this process can be fun. Our staff operates so that you can relax and enjoy the moment and finally, the remodel itself. We're continuing to grow as a company, and we hope that 2020 brings us great projects that not only keep us busy but will challenge us to think outside the box.
We're starting to move in a direction that offers more transparency while sharing great information, pictures, and online blogs. We believe social media is the future of client communications and inspiration. So, please visit us on Facebook, Instagram, LinkedIn, and Twitter. We look forward to your comments and likes on these platforms. Thank you for taking the time to read this and catch up on what we're doing!
Want to find out more?
Call us at 941-342-3443
Visit our showroom located in Sarasota at 5686 Fruitville Road
Email me at dan@cabinetsextra.com
ABOUT THE AUTHOR
Dan has been one of the Suncoast's leading kitchen and bath professionals for over a decade and has been a part of over 1,300 projects. He has a true passion for connecting with clients and bringing their dream spaces to life while implementing a fun, energetic, and enjoyable construction experience.
---
The kitchen is one of the first rooms homeowners explore when it comes to renovations. It's the main gathering place in the home for families and friends after all. It's the area where socialization happens most of the time, so it makes sense to choose this room to remodel. A kitchen remodel can be extremely fun, and it should be. There are so many small changes that can be made to completely transform a kitchen that it's mind-boggling. But the big question is, is this remodeling project a sound financial decision? Let's see…
What you need to do first is look at the long-term picture. Are you remodeling the kitchen for your preferences, or will you be selling your home in the near future? Either way, renovations to the kitchen can help save money down the road. If you're planning to stay in the home, you can explore some new choices that can help save your monthly utility bills. You can opt for new energy efficient windows that can save you on electricity. You can install low flow faucets to save on water consumption. You can buy appliances that are more energy efficient. You'll also experience personal satisfaction that your new kitchen is more operational and updated than it was previously.
If you're planning to sell your home, you can expect a very significant return on your investment with a renovated kitchen. If you ask any realtor, they'll tell you that one of the first things a potential buyer is interested in is the kitchen. If your kitchen is fresh and updated with contemporary designs, it will make your home stand out against homes that have an older kitchen. You can expect to get a return of at least 40% of your remodeling investment when you list your home.
A home kitchen makeover is a very sensible choice, especially if you have the budget to remodel only one room. The kitchen is central to the home, and you can spend a lot of time cooking, eating, and socializing in it. The benefits of new and updated appliances and other elements far outweigh the costs you'll incur. You'll be surprised at how far you can get with virtually any proposed budget. When your project is finished, you'll realize it was money well spent.
Ready to start your kitchen remodel?
Call us at 941-342-3443
Visit our showroom located in Sarasota at 5686 Fruitville Road
---
So, it's the New Year. You're setting new goals, planning for new endeavors, and dreaming about things to come. As someone who is creative, I understand the importance of dreaming and allowing your creativity to expand. If you are going to dream, dream big! Dreams will stay dreams forever unless you come up with a plan for that dream.
Half the battle when you are creating is implementing these great ideas while whittling them down to a concise and manageable design. A great first step is to write those ideas down in a notebook (or something similar), but when it comes to designing a space, it may be helpful to take it another step further. How about a dream board?!
You want to redesign your space, right? You've been on Pinterest and Instagram perusing photos and coming up with ideas. You have all of these great pictures saved (or liked), so don't be afraid to go that extra mile and turn it into a collage (which you could do on your computer, an app, or on your phone). Grab your favorite pics and organize them together by room or space. Once they are all in the same place, you will begin to see a vision for the overall look for your design. Organizing your thoughts into a concise idea truly does help motivate you to begin implementing those ideas too. (Design tip: don't just add pictures for one room; add photos to your dream board from all different spaces throughout the home… the kitchen, dining, living… that way you can capture the entire vision and confirm a cohesive look). This not only helps you get a clearer vision of what you want for your space, but it helps us, as designers, help you define your style, AND it gives us a great launching pad to take your ideas and turn them up a notch to create a unique space tailored to you.
Let's start the New Year off right. Get that dream board "on paper," and we can start creating your new space together!
Have your dream board ready? Let's talk!
Visit our Website.
Follow me on Instagram.
Email me at jclark@cabinetsexta.com.
ABOUT THE AUTHOR
Joe Clark is a passionate designer, lighting specialist, published writer, English Premier League fan, and Porsche/Automotive enthusiast who uses his technical background from years of experience in the design, engineering, and building industries to help inspire his clients to journey through the creative process with him.
---
We've seen a few new trends in 2019. What I personally have noticed was the shift from the standard "white shaker" to the sleek "slab door" with colors that move from silvers to even more flashy tones. I'm closing the year out with my first navy blue kitchen design. Navy has been knocking on "trendy's" door for a minute now. With the navy blue, we also will be using champagne gold hardware to accent the space with what I call the jewelry of the kitchen.
Here are a few 2020 trends I am excited about. Very cool islands and splashes of color are all expected to be on the "hot list." We love a classic white kitchen, but lately, we've seen requests for navy millwork. It blends beautifully with marble and brass.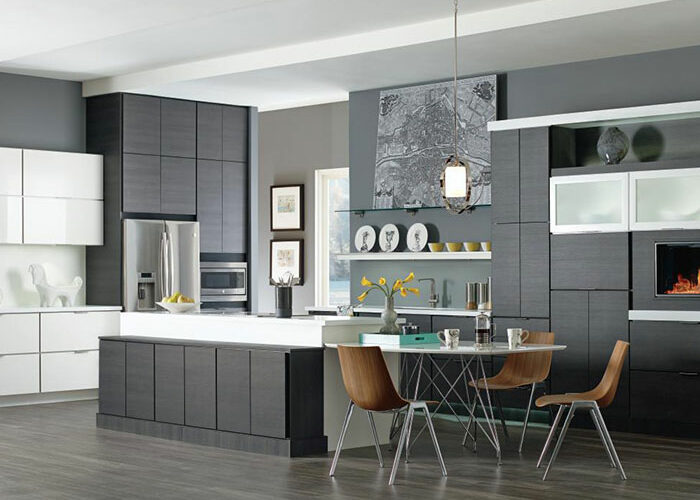 We're seeing updated classic designs for kitchens, amping up the glamour factor without making you feel oddly out of place having coffee in a bathrobe.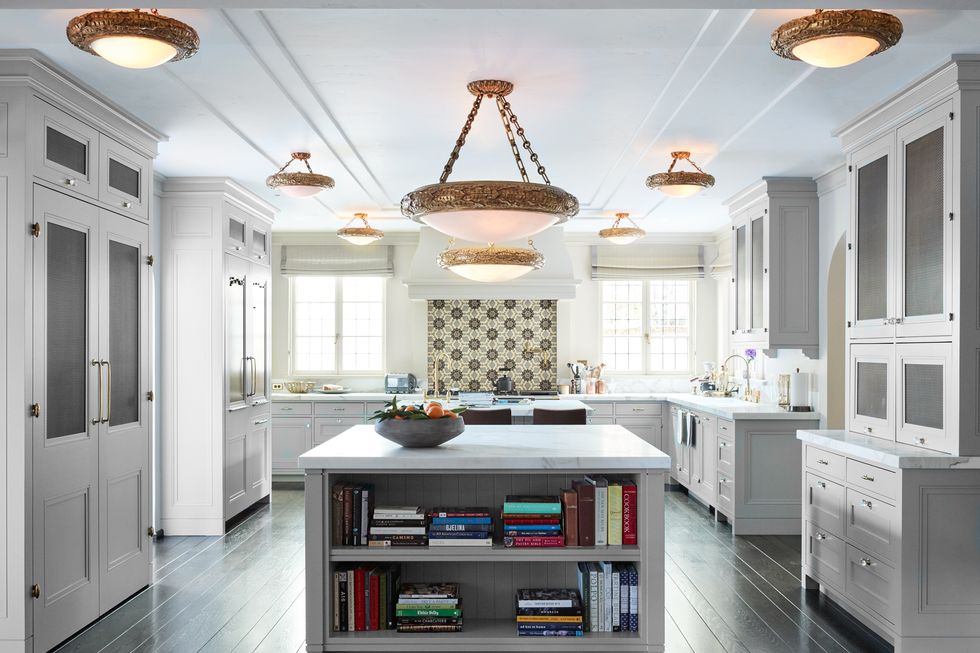 UNEXPECTED COLOR POPS
Using color in unexpected places like appliances and hoods. If you love color, it's a fun way to incorporate it and make a regular appliance feel special and custom.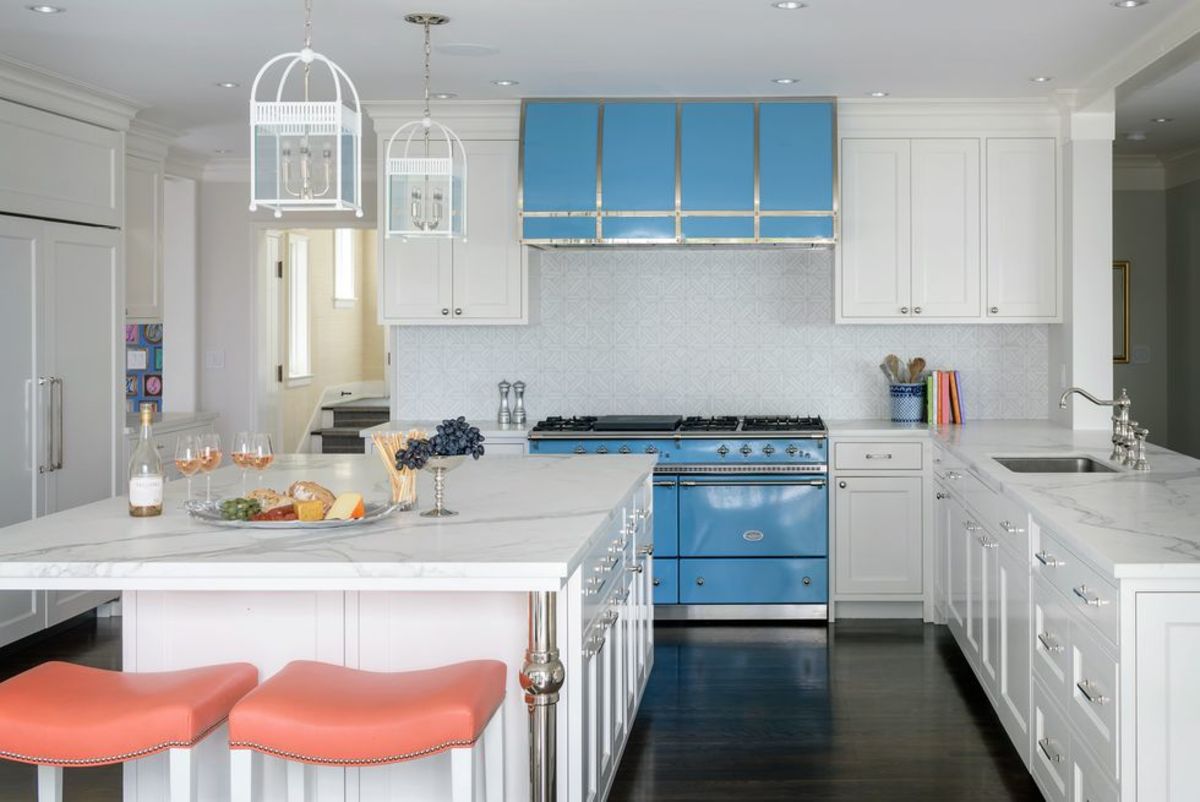 GRAVITY DEFYING ISLANDS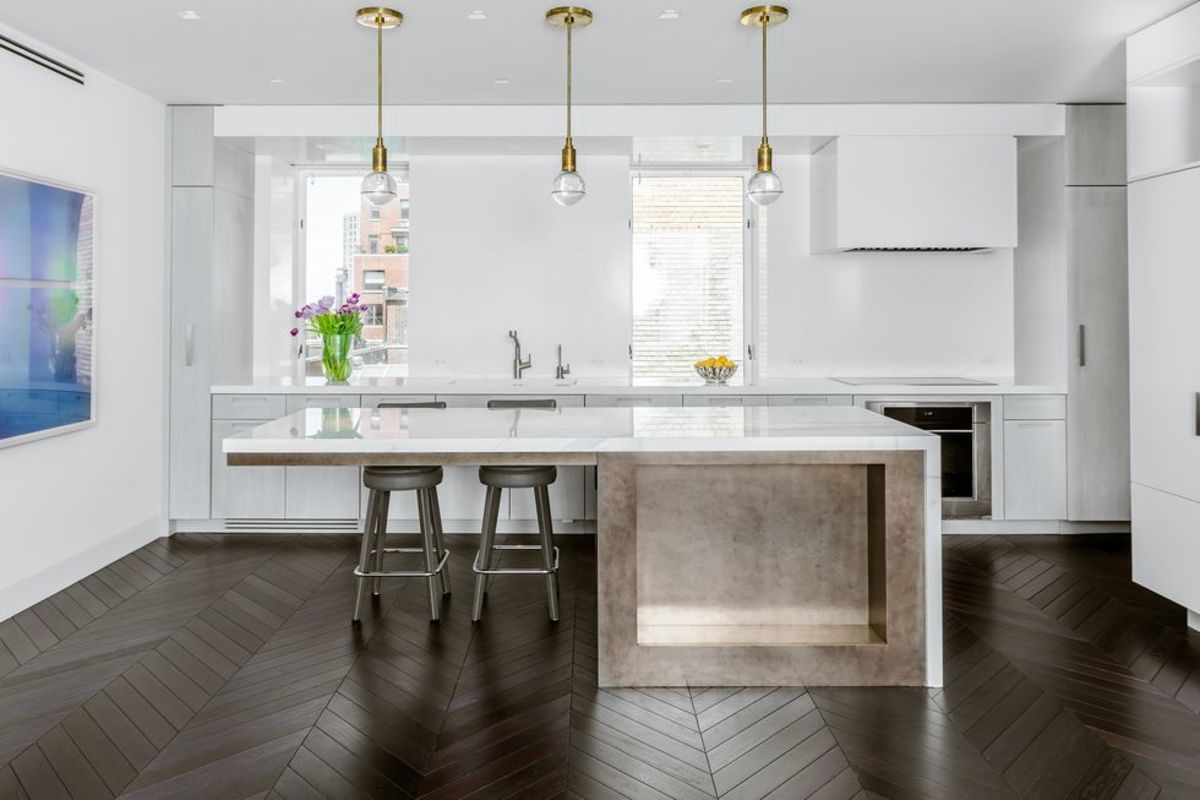 Many of our clients are looking to maximize the sense of clean lines. We continue to see quartz countertops being used in most applications, but when natural stone such as a quartzite or granite are chosen, they seem to be on the more luxurious side with the beautiful movement and veining. The cost of quartz is also trending up due to tariffs placed on those items, leading to higher cost and an overall price of a project. The cost of remodeling kitchens, bathrooms, and other types of spaces has of course risen also, as seen even with the products we purchase from our daily groceries to larger items such as cars and homes. Overall, it costs more to do just about anything in today's market. The great part about working with us is we have trained staff to keep you in budget to produce an incredible space. We have over 100 years combined of experience from project planning to project completion. There is not a lot that we have not seen or done when it comes to construction.
My wish for 2020 is that when people are deciding on a project to tackle or a contractor to hire, they really dive into the companies they are considering for the task of transforming whatever it is they wish to do. Be prepared. Know the companies' and contractors' backgrounds. Are they compliant with all the necessary licensing and up to date on their policies? Overall, be a well-educated buyer. We are very transparent and forthcoming with our potential and existing clients. We want you to enjoy the process and the many thrills it can offer.
So, for the next 365 days, let's get classic but not too classic. Let's get funky, but with style, and overall, we hope that 2020 brings you a year full of gratitude, good health, and wellbeing.
Thank you for following me on our last blog of 2019! Happy New Year!
How can you contact me?
Call us at 941-342-3443
Visit our showroom located in Sarasota at 5686 Fruitville Road
Email me at dan@cabinetsextra.com
ABOUT THE AUTHOR
Dan has been one of the Suncoast's leading kitchen and bath professionals for over a decade and has been a part of over 1,300 projects. He has a true passion for connecting with clients and bringing their dream spaces to life while implementing a fun, energetic, and enjoyable construction experience.
---