All entries tagged with "home design"
The kitchen is one of the first rooms homeowners explore when it comes to renovations. It's the main gathering place in the home for families and friends after all. It's the area where socialization happens most of the time, so it makes sense to choose this room to remodel. A kitchen remodel can be extremely fun, and it should be. There are so many small changes that can be made to completely transform a kitchen that it's mind-boggling. But the big question is, is this remodeling project a sound financial decision? Let's see…
What you need to do first is look at the long-term picture. Are you remodeling the kitchen for your preferences, or will you be selling your home in the near future? Either way, renovations to the kitchen can help save money down the road. If you're planning to stay in the home, you can explore some new choices that can help save your monthly utility bills. You can opt for new energy efficient windows that can save you on electricity. You can install low flow faucets to save on water consumption. You can buy appliances that are more energy efficient. You'll also experience personal satisfaction that your new kitchen is more operational and updated than it was previously.
If you're planning to sell your home, you can expect a very significant return on your investment with a renovated kitchen. If you ask any realtor, they'll tell you that one of the first things a potential buyer is interested in is the kitchen. If your kitchen is fresh and updated with contemporary designs, it will make your home stand out against homes that have an older kitchen. You can expect to get a return of at least 40% of your remodeling investment when you list your home.
A home kitchen makeover is a very sensible choice, especially if you have the budget to remodel only one room. The kitchen is central to the home, and you can spend a lot of time cooking, eating, and socializing in it. The benefits of new and updated appliances and other elements far outweigh the costs you'll incur. You'll be surprised at how far you can get with virtually any proposed budget. When your project is finished, you'll realize it was money well spent.
Ready to start your kitchen remodel?
Call us at 941-342-3443
Visit our showroom located in Sarasota at 5686 Fruitville Road
---
So, it's the New Year. You're setting new goals, planning for new endeavors, and dreaming about things to come. As someone who is creative, I understand the importance of dreaming and allowing your creativity to expand. If you are going to dream, dream big! Dreams will stay dreams forever unless you come up with a plan for that dream.
Half the battle when you are creating is implementing these great ideas while whittling them down to a concise and manageable design. A great first step is to write those ideas down in a notebook (or something similar), but when it comes to designing a space, it may be helpful to take it another step further. How about a dream board?!
You want to redesign your space, right? You've been on Pinterest and Instagram perusing photos and coming up with ideas. You have all of these great pictures saved (or liked), so don't be afraid to go that extra mile and turn it into a collage (which you could do on your computer, an app, or on your phone). Grab your favorite pics and organize them together by room or space. Once they are all in the same place, you will begin to see a vision for the overall look for your design. Organizing your thoughts into a concise idea truly does help motivate you to begin implementing those ideas too. (Design tip: don't just add pictures for one room; add photos to your dream board from all different spaces throughout the home… the kitchen, dining, living… that way you can capture the entire vision and confirm a cohesive look). This not only helps you get a clearer vision of what you want for your space, but it helps us, as designers, help you define your style, AND it gives us a great launching pad to take your ideas and turn them up a notch to create a unique space tailored to you.
Let's start the New Year off right. Get that dream board "on paper," and we can start creating your new space together!
Have your dream board ready? Let's talk!
Visit our Website.
Follow me on Instagram.
Email me at jclark@cabinetsexta.com.
ABOUT THE AUTHOR
Joe Clark is a passionate designer, lighting specialist, published writer, English Premier League fan, and Porsche/Automotive enthusiast who uses his technical background from years of experience in the design, engineering, and building industries to help inspire his clients to journey through the creative process with him.
---
We've seen a few new trends in 2019. What I personally have noticed was the shift from the standard "white shaker" to the sleek "slab door" with colors that move from silvers to even more flashy tones. I'm closing the year out with my first navy blue kitchen design. Navy has been knocking on "trendy's" door for a minute now. With the navy blue, we also will be using champagne gold hardware to accent the space with what I call the jewelry of the kitchen.
Here are a few 2020 trends I am excited about. Very cool islands and splashes of color are all expected to be on the "hot list." We love a classic white kitchen, but lately, we've seen requests for navy millwork. It blends beautifully with marble and brass.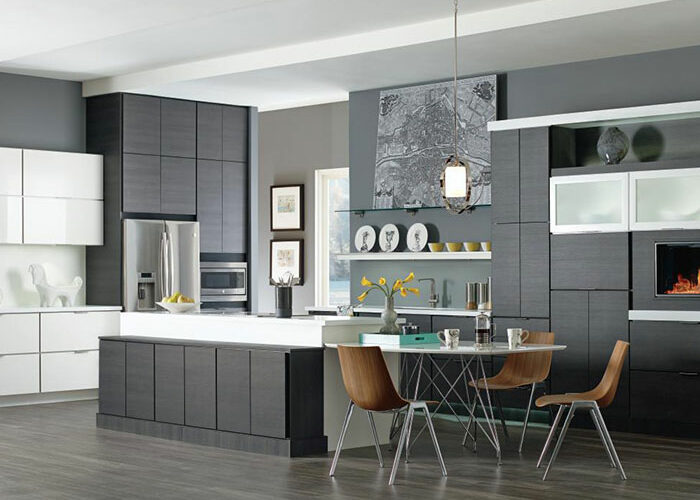 We're seeing updated classic designs for kitchens, amping up the glamour factor without making you feel oddly out of place having coffee in a bathrobe.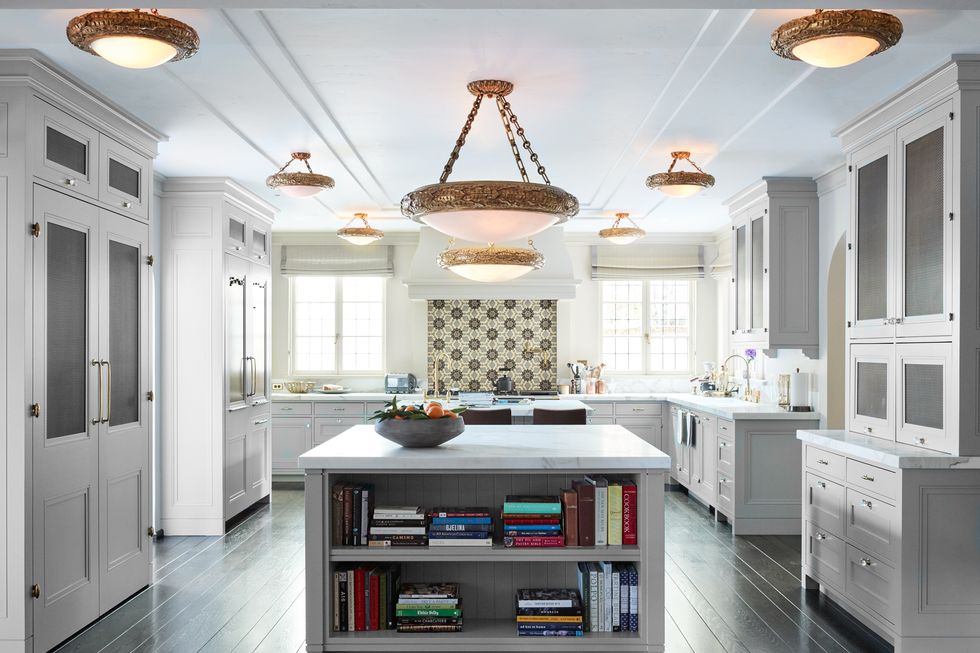 UNEXPECTED COLOR POPS
Using color in unexpected places like appliances and hoods. If you love color, it's a fun way to incorporate it and make a regular appliance feel special and custom.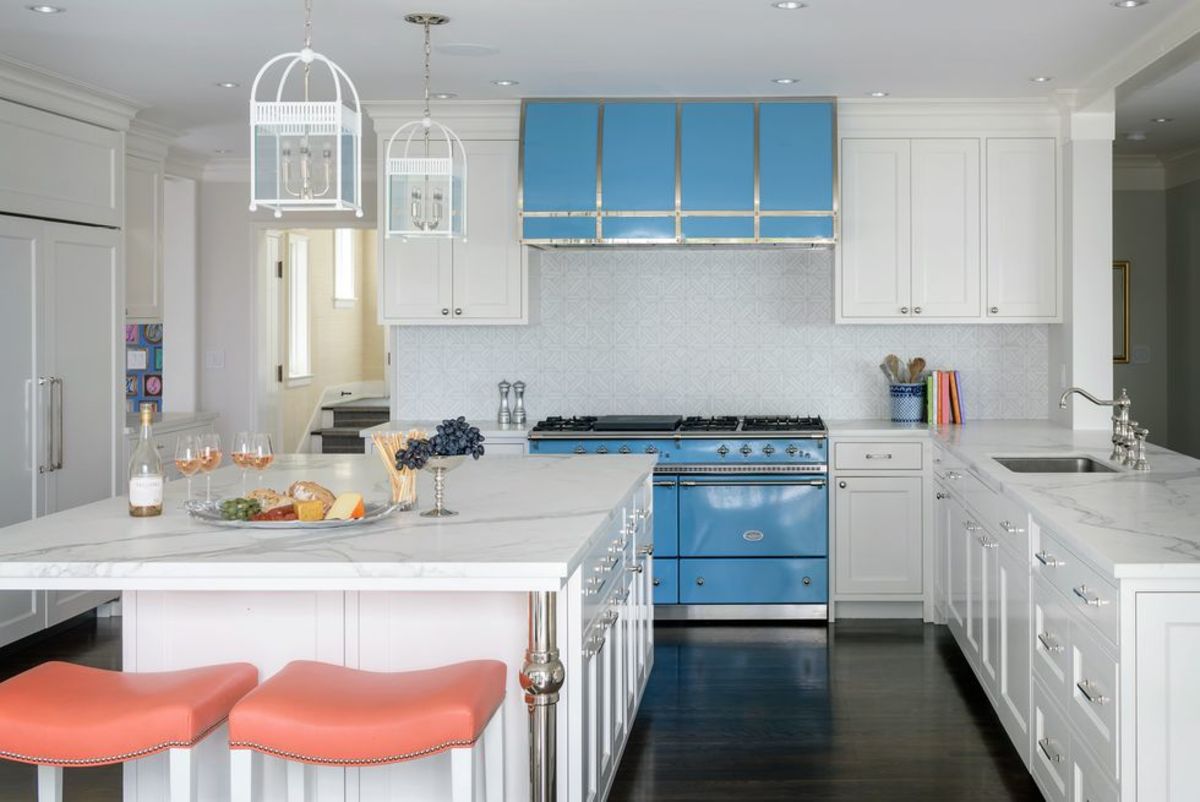 GRAVITY DEFYING ISLANDS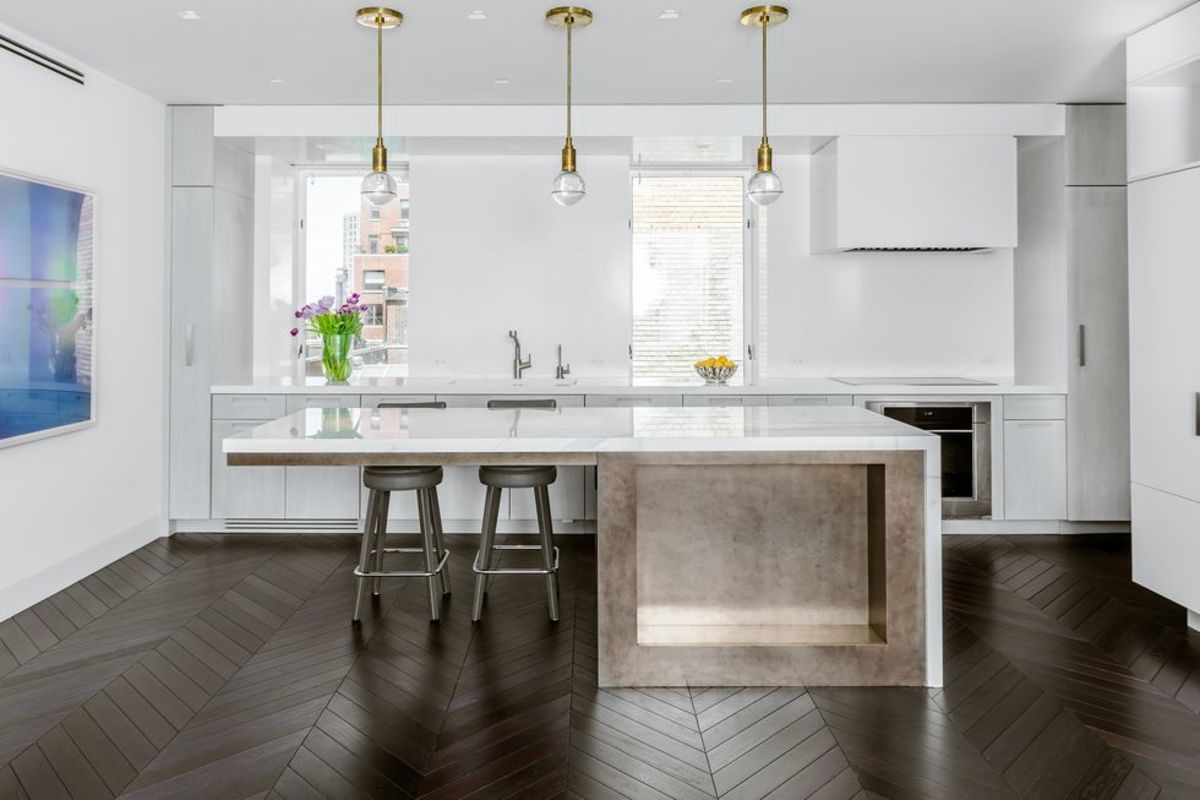 Many of our clients are looking to maximize the sense of clean lines. We continue to see quartz countertops being used in most applications, but when natural stone such as a quartzite or granite are chosen, they seem to be on the more luxurious side with the beautiful movement and veining. The cost of quartz is also trending up due to tariffs placed on those items, leading to higher cost and an overall price of a project. The cost of remodeling kitchens, bathrooms, and other types of spaces has of course risen also, as seen even with the products we purchase from our daily groceries to larger items such as cars and homes. Overall, it costs more to do just about anything in today's market. The great part about working with us is we have trained staff to keep you in budget to produce an incredible space. We have over 100 years combined of experience from project planning to project completion. There is not a lot that we have not seen or done when it comes to construction.
My wish for 2020 is that when people are deciding on a project to tackle or a contractor to hire, they really dive into the companies they are considering for the task of transforming whatever it is they wish to do. Be prepared. Know the companies' and contractors' backgrounds. Are they compliant with all the necessary licensing and up to date on their policies? Overall, be a well-educated buyer. We are very transparent and forthcoming with our potential and existing clients. We want you to enjoy the process and the many thrills it can offer.
So, for the next 365 days, let's get classic but not too classic. Let's get funky, but with style, and overall, we hope that 2020 brings you a year full of gratitude, good health, and wellbeing.
Thank you for following me on our last blog of 2019! Happy New Year!
How can you contact me?
Call us at 941-342-3443
Visit our showroom located in Sarasota at 5686 Fruitville Road
Email me at dan@cabinetsextra.com
ABOUT THE AUTHOR
Dan has been one of the Suncoast's leading kitchen and bath professionals for over a decade and has been a part of over 1,300 projects. He has a true passion for connecting with clients and bringing their dream spaces to life while implementing a fun, energetic, and enjoyable construction experience.
---
So here's the scenario… you moved or have a place in, let's say, Sarasota. It doesn't need to be huge, and most of the time when you are here, it's just you or you and your significant other. Occasionally, you have friends and/or family visit, but it typically isn't for extended periods of time. You have a three-bedroom you are wanting to remodel, but currently, everything seems to just be too small or too close together. What do you do?
The hardest part of the process is allowing yourself to be bold in your decision to renovate. Many times when starting the process of thinking about remodeling, it can be tough to imagine the space outside of its current proverbial "box," especially if you have owned or been there for a while. Re-envisioning the space for your lifestyle can be imperative. Why go through all of it just to put it back the way it was, especially if it wasn't the best fit for your lifestyle?
I may ruffle some feathers with this next statement, so here it goes (any realtors reading this may want to turn away now, LOL!). If you love your home/condo/villa, your location is great, and you don't plan on going anywhere for a while, why not make your space a two-bedroom instead (there it is… I said it)? I know, you're thinking that this move will devalue your property, however, if I may… if it's designed well, that won't really matter!
Too often, many go through the process thinking about the "next" person who "may" purchase the property, rather than designing it to their liking. You should LOVE your space, not just think it's okay.
Of course, the idea of re-envisioning the space with one less bedroom is not applicable in every situation, but sometimes your space and how you use it calls for a drastic change like this. For example, maybe the current configuration with the three-bedroom has no dining space and a tiny living room. By removing one of the superfluous bedrooms (let's be honest, you probably didn't use it anyway) and combining that newfound square footage into your unit, you may gain the space you always wished you had… two bedrooms with one suite bathroom and a big enough living room to actually fit a sofa in, etc.
So what it comes down to is don't let your current space dictate the design. Let's get creative and define your space the way you want it to be!
How can you contact me?
Visit our Website.
Follow me on Instagram.
Email me at jclark@cabinetsexta.com.
ABOUT THE AUTHOR
Joe Clark is a passionate designer, lighting specialist, published writer, English Premier League fan, and Porsche/Automotive enthusiast who uses his technical background from years of experience in the design, engineering, and building industries to help inspire his clients to journey through the creative process with him.
---